In one of our previous article we have posted an instructional guide on how to install Xperia NxT MoD v1.0 theme pack for any device which runs GingerBread (GB). Here as demo i am using Android devices Samsung galaxy y GT-s5360. Now the updated version of this mode pack has has been released and the new version is known as Xperia NxT MoD v1.5 this works in all Rom's. This MoD features all Xperia items like Mobile Bravia Engine, Icons, Widgets, Sounds, Wallpapers, etc. which are ported to other GingerBread devices. The developer of this mod pack is Ganesh Arivoli from Xda so don't forget to thanks him for his work although he did not include Timescape UI as many devices don't support it. But the developer have included many Xperia items that you would like. This MoD pack is only for rooted GingerBread devices. So lets have look on few screenshots (by dev.) of Xperia NxT MoD v1.5 running on Gingerbread running devices galaxy y.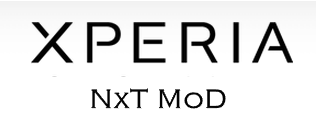 Screenshots:
Features:
Xperia Apps:
▬ Xperia Home with Settings
▬ Track-ID
▬ Walkman Music Player
▬ Xperia S Wallpaper Picker
▬ Xperia MMS app
Xperia S CM7 Theme (themed apps)
▬ com_android_browser
▬ com_android_calculator2
▬ com_android_calendar
▬ com_android_camera
▬ com_android_contacts
▬ com_android_deskclock
▬ com_android_inputmethod_latin
▬ com_android_mms
▬ com_android_music
▬ com_android_phone
▬ com_android_settings
▬ com_android_systemui
▬ com_cooliris_media
▬ com_google_android_apps_genie_geniewidget
▬ com_android_providers_downloads_ui
▬ com_android_packageinstaller
▬ com_sonyericsson_home
Ori Thread : here
Xperia Widgets:
▬ Clock Widgets (5 clocks)
▬ On Off Tools (11 widgets)
▬ Photo and Video Widget
▬ Weather Widget (2 widgets)
▬ Smart Contacts(3 widgets)
▬ NxT Clock Widget
▬ Digital Clock Wideget
Other:
▬ Xperia S Fonts
▬ Cosmic Flow Live Wallpaper
▬ Widget Picker
▬ Mobile Bravia Engine
▬ Xperia T Boot Animation
▬ Xperia S Ringtones
▬ Xperia S Notification Sounds
Note : You may not get all widgets. It depends on your Launcher.
Use the provided Xperia Launcher which supports all widgets.

Warning:
Use at your own Risk! we will not held responsible for any damage to your device
Requirements:
Cwm for Galaxy y model gt-s5360: cwm.zip
Size: 35.11 MB
Instructions :
Backup your system charge battery 50%.
Download cwm according to your device the above provided cwm file is for galaxy y so if you have other device just Google it and mod pack and place in root directory of sd card and turn your phone off.
Boot your phone in recovery mode by pressing volume up+home+power button together.
When you enter recovery mode select apply update from sd card and navigate to root directory and select "CWM.zip"
As now you are in cwm mode select install update from sd card and Select the update file "Xperia NxT MoD v1.zip" and ok let the process to be completed.
Now Reboot Device.
Congratulation! you have installed Xperia NxT MoD v1.5. In case noticed any bug post on thread page so that dev can fix on next update.

For CM7 Theme
Open Theme Chooser and select Xperia S Theme